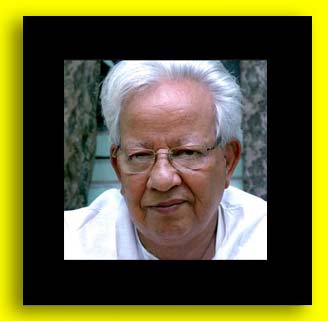 With deep grief, we inform the loss of our Chairman, a great social reformer and a very uncourageous personality Padmasree Tushar Kanjilal. He left to his heavenly abode on 29th January 2020, Wednesday.

Bharat Petroleum Corporation Ltd. extended financial support
Bharat Petroleum Corporation Ltd. extended a CSR support amounting to Rs.45,58,200 for Maheshpur branch of Jharkhand of Tagore society for rural Development towards training and capital formation of 1000 beneficiaries of Maheshpur block under Pakur district. Training of beneficiaries is continuing. Daily news papers are covering the news of these programmes regularly.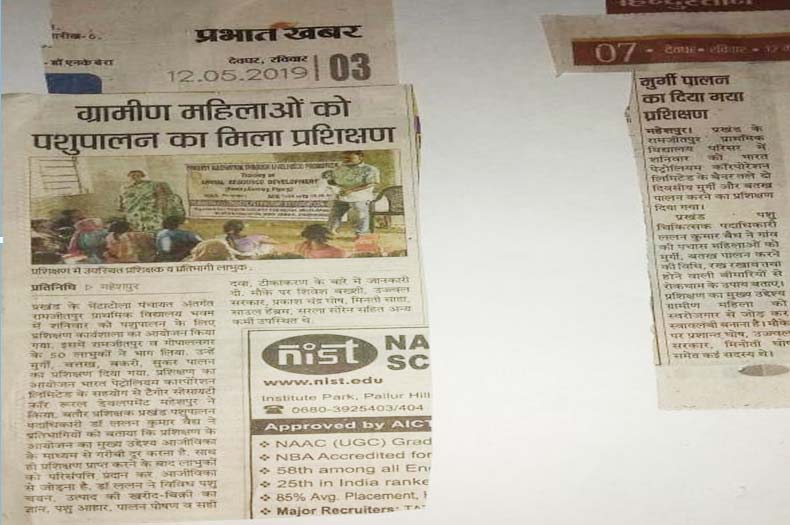 NETZ-BMZ Germany extended financial support
NETZ-BMZ Germany extended a financial support amounting to Rs.1,63,49,857 for Rajnagar branch of Tagore Society for Rural Development to work in Birbhum district of West Bengal. The project aimed at income augmentation of 800 ultra poor households of 3 Panchayat areas of Rajnagar and Khoirasol blocks of Birbhum district. Skill development through training and animal resource development towards their capital formation and socio-economic sustenance has been started.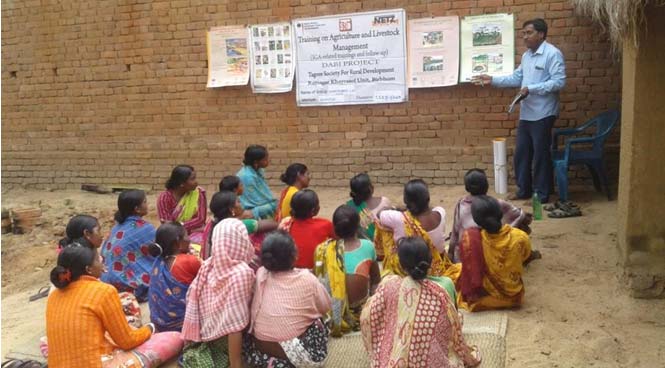 TSRD - Patamda project awarded
The Governor of Jharkhand Smt. Droupodi Murmu, awarding to Smt. Nirupama Mahato and Smt. Swarasti Mahato of Harijan Pishri Mahila Samuha, village & Po- Bangurda, Block- Patamda, promoted by TSRD, Patamda held on 15/7/2019 at Hotel BNR Chanayakya, Ranchi. This SHG got the 1st position in the state and honored as the best performing SHG during 2018-2019




NGO attachment Programme for the Officers of the Government of India
A group of 45 Assistant Section Officers visited TSRD Bolpur and TSRD Rajnagar Branches for NGO Attachment Programme under Institute of Secretariat Training & Management (ISTM), New Delhi. The group visited the project villages and met with the beneficiaries at Bolpur and Rajnagar branch of TSRD. A lively interaction was also took place between the officers and the beneficiaries.

Coal India Ltd. extended financial support
Coal India Ltd. extended a project support amounting Rs.9385000 for Tagore Society for Rural Development-Bolpur branch. This is a CSR Initiative of Coal India Ltd. towards poverty alleviation & water-sanitation. TSRD select 500 poorest of the poor households from Bolpur-Sriniketan block and provide trainings on health & hygiene, water-sanitation and animal resource development. In the cheque distribution event the District Magistrate of Birbhum Mr. P. Mohan Gandhi, BDO of Bolpur-Sriniketan block Mr. Saumik Panigrahi and Mr. Arup Sengupta, Manager (Personnel) CSR Division, Coal India Ltd. were present and they distributed cheques of Rs.6000/- to each of the 250 women beneficiaries who were present in the programme on 7th of April 2017. TSRD will re-excavate 10 ponds of the block, install 10 deep tube wells and construct 110 house hold latrine through this project support.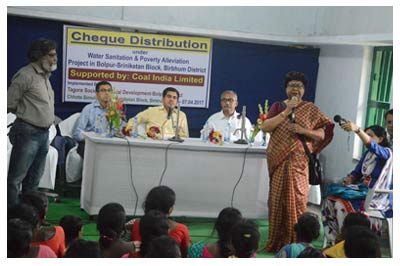 TATA Consultancy Services (TCS) supported Project on Adult Literacy
TSRD is running 60 adult literacy centres for 28800 adults in West Bengal and Jharkhand with financial support of Tata Consultancy Services (TCS). TCS extended their CSR project support to TSRD towards adult literacy through Software developed by TCS. In the first year of the project TSRD achieved its target to literate more than 28800 learners in two years. These learners, who were totally illiterate are now able to read and write, calculate numbers and reading news papers. Total project value is around rupees one crore.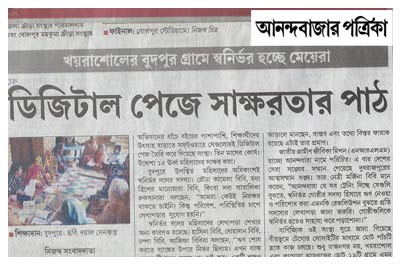 Chairman of TSRD received honorary title from University West Bengal University of Animal and Fishery Science awarded the Chairman of Tagore Society for Rural Development Padmashree Tushar Kanjilal, the national teacher by giving him honorary title "Doctorate of Science" (D.Sc.) on 15th June 2017 at their Belgachhia campus in their 11th Convocation. Governor of West Bengal and the Chancellor of University Mr. Keshrinath Tripathi has given this honour to Mr. Kanjilal.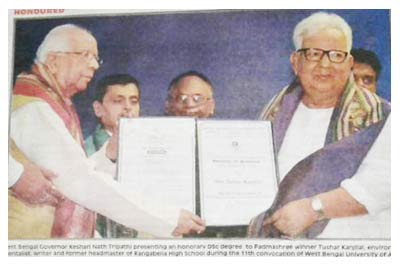 NGO Attachment Programme for the Officers of the Government of India
A group of 18 IAS Officers Trainees visited TSRD Rangabelia Project for NGO Attachment programme under IAS Phase-I Professional Course of Lal Bahadur Shastri National Academy of Administration, Mussoorie. The NGO attachment programme held on 23rd January 2017. Every year visit to TSRD is a part of one year long "Bharat Darshan" programme for IAS probations training.

Visit of Senior Level Officers at Rangabelia project
In 2016, September 25th to 27th a group of Senior Level Officers of Government of India visited Rangabelia project of Tagore Society for Rural Development. The group consisting of 29 officers like Deputy Secretary, Under Secretary and Directors of different ministry visited the project site like Women organization (Rangabelia Mahila Samity), Animal resource departments, Soil testing laboratory, Rangabelia hospital. The group also visited the villages and met with the rural community where TSRD is running a project supported by KKS-BMZ.