Coal India Ltd. extended financial support

Coal India Ltd. extended a project support amounting Rs.9385000 for Tagore Society for Rural Development-Bolpur branch. This is a CSR Initiative of Coal India Ltd. towards poverty alleviation & water-sanitation. TSRD select 500 poorest of the poor households from Bolpur-Sriniketan block and provide trainings on health & hygiene, water-sanitation and animal resource development. In the cheque distribution event the District Magistrate of Birbhum Mr. P. Mohan Gandhi, BDO of Bolpur-Sriniketan block Mr. Saumik Panigrahi and Mr. Arup Sengupta, Manager (Personnel) CSR Division, Coal India Ltd. were present and they distributed cheques of Rs.6000/- to each of the 250 women beneficiaries who were present in the programme on 7th of April 2017. TSRD will re-excavate 10 ponds of the block, install 10 deep tube wells and construct 110 house hold latrine through this project support.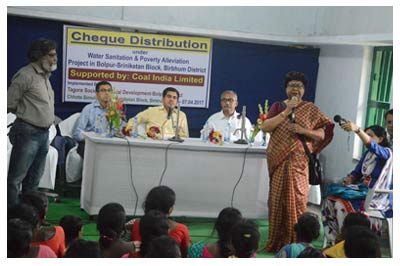 TATA Consultancy Services (TCS) supported Project on Adult Literacy
TSRD is running 60 adult literacy centres for 28800 adults in West Bengal and Jharkhand with financial support of Tata Consultancy Services (TCS). TCS extended their CSR project support to TSRD towards adult literacy through Software developed by TCS. In the first year of the project TSRD achieved its target to literate 14400 learners. These learners, who were totally illiterate are now able to read and write, calculate numbers and reading news papers. Total project value is around rupees one crore.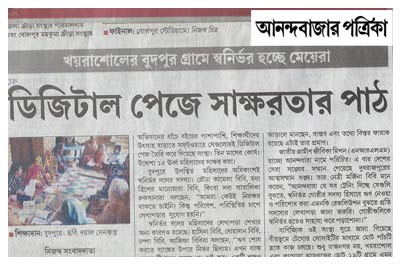 Chairman of TSRD received honorary title from University West Bengal University of Animal and Fishery Science awarded the Chairman of Tagore Society for Rural Development Padmashree Tushar Kanjilal, the national teacher by giving him honorary title "Doctorate of Science" (D.Sc.) on 15th June 2017 at their Belgachhia campus in their 11th Convocation. Governor of West Bengal and the Chancellor of University Mr. Keshrinath Tripathi has given this honour to Mr. Kanjilal.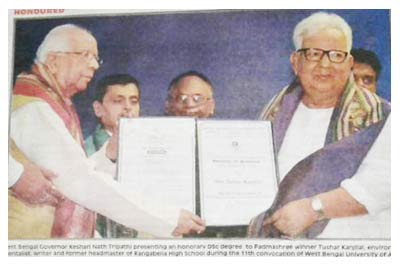 NGO Attachment Programme for the Officers of the Government of India
A group of 18 IAS Officers Trainees visited TSRD Rangabelia Project for NGO Attachment programme under IAS Phase-I Professional Course of Lal Bahadur Shastri National Academy of Administration, Mussoorie. The NGO attachment programme held on 23rd January 2017. Every year visit to TSRD is a part of one year long "Bharat Darshan" programme for IAS probations training.

Visit of Senior Level Officers at Rangabelia project
In 2016, September 25th to 27th a group of Senior Level Officers of Government of India visited Rangabelia project of Tagore Society for Rural Development. The group consisting of 29 officers like Deputy Secretary, Under Secretary and Directors of different ministry visited the project site like Women organization (Rangabelia Mahila Samity), Animal resource departments, Soil testing laboratory, Rangabelia hospital. The group also visited the villages and met with the rural community where TSRD is running a project supported by KKS-BMZ.